Enjoy these delicious spring drinks
Pumpkin Chai
Spiced chai tea brewed with real pumpkin by Spokane's own Revival Tea Co. Served with oat milk.
Caramel Corn Latte
Kettle corn oat milk latte with SnowCap, caramel drizzle, and a sprinkle of pink Himalayan salt.
Cotton Candy MadHatter
MadHatter energy with blue raz, vanilla bean, and cream plus SnowCap & colored sprinkles
PunkinChata
Breve white coffee latte with white chocolate, pumpkin, chocolate macadamia, and cinnamon sprinkles.
Caramel Apple Sucker
Our MadHatter premium energy drink with caramel and green apple.
POW!
Ground white chocolate & Irish cream latte with chocolate milk, topped with SnowCap
Pixie Stick MadHatter
MadHatter energy with white chocolate, almond, and pomegranate.
ABOUT US
Wake Up Call Coffee
Wake Up Call has been serving up the neighborhood's finest coffee since opening our first store on Dishman-Mica Rd. in the Spokane Valley back in 2004. Since then, we've opened 12 more locations and much has changed, but one thing that always remains is our commitment to great coffee and great service.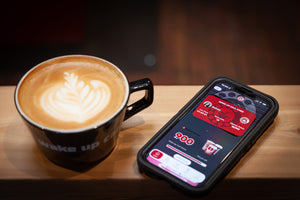 Download our new loyalty app
earn double points
on your next drink
available now for iOS and Android
Monthly Specials 09/04 - 10/01
Espresso Special
Laffy Taffy
English toffee, red raspberry, vanilla bean
Sugar-Free Option: red raspberry, vanilla
MadHatter Special
Fruit Roll-Up
blue curacao, huckleberry, strawberry
More Info
Loyalty Program
Sign Up
Provide your mobile number to your barista and they will sign you up!
Earn Points
Check in with our mobile app or your phone number and you'll earn 1 stamp (100 points) for each drink purchased.
Get Free Drinks
Redeem 10 stamps (1000 points) for a free drink of your choice!*
*some restrictions may apply. drink value not to exceed $10.25